Christopher L. Jenkins-
Cinematographer and Editor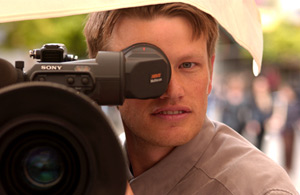 Christopher L. Jenkins is a Cinematographer and Editor based in San Francisco. He has been behind the lens of several acclaimed films including Sierra Leone's Refugee All Stars and the soon to be released Matador: The Documentary Film. Prior to receiving his M.A. in Documentary Film and Video from Stanford University in 1999, Chris worked with deaf Sudanese refugees in East Africa and with orphaned children in southern Chile.